Debutante Elise Allen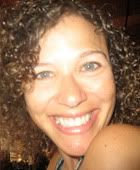 Elise has among the most random television-writing resumes ever, with credits that run the gamut from Cosby to Dinosaur Train. She recently fulfilled one of her many life's ambitions by writing for the Muppets. Another ambition, anytime-access to Disneyland's Club 33, is for the moment still a pipe dream. Elise has a sick penchant for running marathons, and can't seem to stop even though fifteen really should be enough already. She lives in L.A. with her husband, daughter, and insatiable food-hound of a dog, Riley.
Elise's Debutante Ball posts
Elise's website | Twitter
Email Elise at elise (at) thedebutanteball (dot) com
Populazzi
(YA, August 2011, Harcourt)
Cara Leonard always wished she could be one of those girls: confident, self-possessed, and never at a loss for the perfect thing to say. They are the Populazzi, and they've always been many rungs on the Popularity Tower above Cara and her best friend Claudia.
Yet when Cara moves to a new school just before junior year, Claudia urges Cara to seize the opportunity and change her life… by using the Ladder. Its rungs are relationships, and by molding herself into the perfect girlfriend to guys higher and higher on the Popularity Tower, Cara will be able to achieve the ultimate goal: becoming Supreme Populazzi, the most popular girl in school
What starts off as a lighthearted social experiment becomes increasingly twisted and difficult, and Cara soon finds even the most basic things about herself aren't what she always believed. Though the Ladder may seem like a straight climb to the top, for Cara it's a sometimes-dark, sometimes-absurd, always-winding journey to find out who she really is.
Order a copy: Barnes & Noble | Amazon.com |Powell's | IndieBound
Debutante Eleanor Brown
Eleanor is a writer and educator with a passion for reading. She and her partner, the writer J.C. Hutchins, have just moved from Florida to Colorado with their cat, a lot of books, and absolutely no winter clothes.
Eleanor's writing has appeared in anthologies, journals, magazines, and newspapers.
Eleanor's Debutante Ball posts
Eleanor's website | Twitter | Facebook
Email Eleanor at eleanor (at) thedebutanteball (dot) com

The Weird Sisters
(February 2011, Amy Einhorn Books)
"See, we love each other. We just don't happen to like each other very much."
The Andreas family is one of readers. Their father, a renowned Shakespeare professor who speaks almost entirely in verse, has named his three daughters after famous Shakespearean women. When the sisters return to their childhood home, ostensibly to care for their ailing mother, but really to lick their wounds and bury their secrets, they are horrified to find the others there. But the sisters soon discover that everything they've been running from—one another, their small hometown, and themselves—might offer more than they ever expected.
Order a copy: Barnes & Noble | Amazon.com | Borders | Powell's | IndieBound | Canada: Amazon.ca | UK: Amazon.co.uk
Debutante Kim Stagliano
Kim Stagliano is a nationally recognized autism advocate and speaker. Although autism typically affects boys, Kim is in the unique position of having three daughters with full-blown autism, which has made her and her family the focus of national media attention. She is the managing editor of www.ageofautism.com, the nation's first daily web newspaper about the autism epidemic. She writes for The Huffington Post, is on the editorial staff of The Autism File Magazine, and is a feature writer for Spectrum Magazine.
She speaks at national autism conferences and has appeared on Good Morning America, ABC News, Fox News, and has been featured in The Chicago Tribune and The National Catholic Register.
Kim's Debutante Ball posts
Kim's website | Twitter | Facebook
Email Kim at kim (at) thedebutanteball (dot) com
All I Can Handle; I'm No Mother Teresa: A Life Raising Three Daughters With Autism
(Memoir, November 2010, Skyhorse Publishing)
All I Can Handle; I'm No Mother Teresa is Kim Stagliano's electrifying, hilarious tale of her family's journey raising three daughters with autism. With her funny, startling, and illuminating first book, Stagliano joins the ranks of bestselling memoirists like David Sedaris and Augusten Burroughs. With her willingness to lay everything on the table—family, friends, and enemies to basement floods to birth days to (possible) heroin addictions—she eviscerates and celebrates the absurd.
Whether she's going commando to rescue a daughter from a potentially embarrassing situation or accidentally stealing electric fans, she and her family are seemingly always on the edge of a "stag"-tastrophe. From her love of Howard Stern to her increasing activism in the autism community and exhaustive search for treatments that will help her daughters, she explores her life with vigor and humor. Always outspoken, often touching, and sometimes heartbreaking, Kim Stagliano is a powerful new voice in comedic writing—her "Kimoir" (as she calls it) will be a must-read for everyone within the autism community. More than that, it's the debut of a new voice that will entertain everyone who reads it.
Order a copy: Barnes & Noble | Amazon.com | Powell's | IndieBound
Debutante Sarah Jio
A Seattle-based writer and the health and fitness blogger for Glamour.com, Sarah has contributed to major magazines including O, The Oprah Magazine, Woman's Day, Cooking Light, Glamour, SELF, Real Simple, Redbook, Fitness, Marie Claire, Hallmark magazine, Seventeen, Health, Bon Appetit, Gourmet, The Seattle Times, and many others. She has also appeared as a commentator on NPR's Morning Edition. Sarah has a degree in journalism and writes about topics that include food, nutrition, health, entertaining, travel, diet/weight loss, beauty, fitness, shopping, psychology, and beyond. She frequently tests and develops recipes for major magazines. Sarah is married, with two little boys (and another on the way), who all live with a rascally golden retriever named Paisley who steals socks.
Sarah's Debutante Ball posts
Sarah's website | Twitter | Facebook
Email Sarah at sarahjio (at) thedebutanteball (dot) com
The Violets of March
(May 2011, Penguin (Plume))
In a mystical place where violets bloom out of season and the air is salt-drenched, a heartbroken woman stumbles upon a diary and steps into the life of its anonymous author, and so begins the story of The Violets of March, Sarah Jio's debut novel, to be published by Penguin (Plume) in August of 2011. More about the story: In her twenties, Emily Wilson was on top of the world: she had a bestselling novel, a husband plucked from the pages of GQ, and a one-way ticket to happily ever after. Ten years later, the tide has turned on Emily's good fortune. So when her Great Aunt Bee invites her to spend the month of March on Bainbridge Island in Washington state, Emily accepts, longing to be healed by the sea. Researching her next book, Emily discovers a red velvet diary, dated 1943, whose contents reveal startling connections to her own life.
Order a copy: Barnes & Noble | Amazon.com | Powell's | IndieBound
Debutante Tawna Fenske
A third-generation Oregonian who can peel and eat a banana with her toes, Tawna Fenske has traveled a winding career path from journalist to English teacher in Venezuela to marketing geek. She's the author of the popular daily blog "Don't Pet Me, I'm Writing" and a member of Romance Writers of America. Her debut novel, MAKING WAVES, hits shelves August 2011 as the first in a trio of quirky romantic comedies from Sourcebooks, Inc.
Tawna's Debutante Ball posts
Tawna's website | Twitter
Email Tawna at tawna (at) thedebutanteball (dot) com
Making Wave
s
(August 2011, Sou rcebooks, Inc.)
Making Waves is the first in a trio of quirky romantic comedies from Sourcebooks, Inc.
Juli's lost count of the number of jobs she's held, but she definitely never applied to be a pirate. Or a stowaway on a pirate ship. But when fate lands her on boat captained by Alex—a man whose unscrupulous boss kicked him to the curb after 20 faithful years—Juli finds herself in the middle of a revenge-fueled Caribbean diamond heist with a crew more suited to the boardroom than the poop deck. Alex didn't plan to be a pirate, either. He just wants to recover his dignity, pension, and something resembling a normal life. But normal flies out the window when Juli enters the picture—a twist Alex wishes he didn't find so exhilarating. The two soon discover that while normal is nice, weird can be wonderful.
Order a copy: Barnes & Noble | Amazon.com | Borders | Powell's | IndieBound